Hydra FiftyTwo HD LED (Black) - Aqua Illumination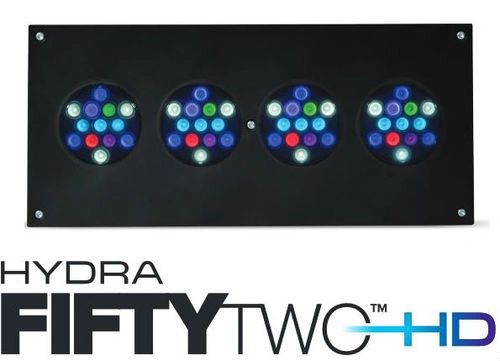 Hydra FiftyTwo HD LED (Black) - Aqua Illumination
Coverage Specifications:
Maximum spread: 30" x 30"
Recommended spread - 24" x 24"
 HD Power
No longer are you limited to using a fixed amount of power per channel, the HD dynamically adjusts power available to each color, borrowing power from the colors you're not utilizing. Giving you the most vivid spectrum your tank has ever seen.
The HD Power Difference
Check out the PAR difference between a normal 20K color setting and one with HD enabled.
HD Spectrum
The Hydra HD Series is capable of producing a limitless number of spectral combinations to fit your tank's exacting needs.
No Controller Needed
There's no need to buy an additional controller just to be able to use your light properly, the Hydra HD Series has control built-in. Use your iOS, Android or internet-connected device to control the Hydra HD, anywhere in the world!
Power Output
Building on AI's rich heritage of building world-class LEDs, the AI Hydra HD Series brings a new level of performance. At a maximum of 135 watts from the wall, it follows in the family's efficient footsteps.
Optics
The Hydra FiftyTwo™ HD comes standard with 80 degree lenses giving you the best balance of power and spread. Our lens optics are custom designed, boasting greater than 90% optical efficiency and including a diffuse exit surface to provide improved color blending.
LEDs
The AI Hydra FiftyTwo™ HD utilizes the latest LED technology from leading manufacturers, arranged to provide the best performance.
12 - Cree XP-G2 Cool White (> 70 CRI)

12 - Cree XT-E Royal Blue

12 - Cree XP-E2 Blue

4 - OSRAM OSLON Deep Red

4 - Cree XP-E2 Green

4 - SemiLED 415nm

4 - SemiLED 400nm
What is in the box?
1x Black Body Hydra FiftyTwo HD LED light Unit
1x AC Adapter Power Supply
1x User Manual
Reviews